We apply ourselves to perform the right quality and the right time to all customers.
Auteseal believes that the correct raw material is very important for chemical, etc. industry. Therefore, we control the right raw material by double ways, certificate 3.1 and an alloy-analyzer of famous trademark.
Further, dimensions are important, too. Auteseal performs the most strict inspection policy and strives to achieve zero defect. Auteseal checks every dimension according to drawings for every piece. And never let the deviation pass our inspection Dept.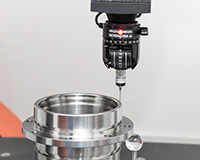 Measuring Alloy-analysis Three-coordinates-measuring